[Home] [The Franciscan Family] [Life of Francis] [Franciscan Study Centers] [History of the Franciscan Institute Library] [Bibliographic Guides] [Franciscan Publication Series] [Franciscan Publishers] [Links] [Archives] [Contact People]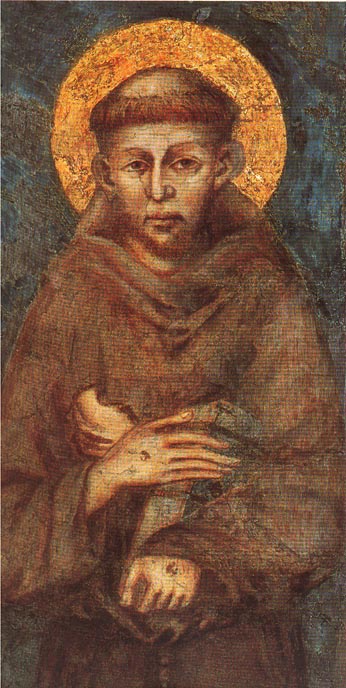 The Franciscan
Institute Library
St. Bonaventure University

Welcome to the Franciscan Institute Library web site. This web site was not only created to be descriptive of the library and its holdings, but also to be a generalized online informational resource in relation to the Franciscan Order and its founder St. Francis of Assisi. This web site is an ongoing endeavor, so as you browse through the various parts, please let us know if things need to be corrected, and also if you have any suggestions about topics for further development of the page.
The Library of the Franciscan Institute constitutes one of the special collections of the Friedsam Memorial Library at St. Bonaventure University. The Institute library has over 18,000 volumes, 110 current periodical subscriptions and 470 other periodical titles. In its coverage of the Franciscan movement, the collection is unique in North and South America and can only be matched by a few European libraries. The Franciscan Institute Library supports not only a teaching program, but also research by various scholars worldwide.
The collection is rich in its coverage of medieval scholasticism. But along with an emphasis on the Middle Ages, the collection also covers all aspects of Franciscan life from that time to the present day. There is an abundance of material for studying the constitutional history of the Franciscan Order in its various branches, both the male and female congregations, as well as that of the Secular Franciscan Order. Liturgical books of the Order are included (i.e. missals, breviaries, psalters, martyrologies, etc.). There is a wealth of material concerning Franciscan spirituality in its theoretical and practical aspects, as well as its concrete application and example in the lives of the Franciscan saints and blesseds. Other topics included are Franciscan contributions to evangelization, music, poetry, art and architecture.
The Franciscan Institute Library brings together works not only in English, but in all of the major European languages, with a sampling of materials in other languages as well.
A major aspect of the holdings of the Franciscan Institute is the rare book collection. This collection consists of medieval and modern manuscripts, incunabula and books published from the 16th to the 18th centuries. There is also a large collection of microfilmed manuscripts of various late medieval philosophers and theologians.
The Franciscan Institute Library had its origin in the 1940's at St. Bonaventure University even before the Institute itself was established. Along with new purchases, materials have been added over the years from many other Franciscan study centers. The first, and largest, such acquisition was the Franciscana and rare book collections from Holy Name College (Washington, D.C.). The rare book collections of both Duns Scotus College (Detroit, Michigan) and St. Francis Friary (Burlington, Wisconsin) along with Franciscan materials from Mary Immaculate Capuchin Friary (Garrison, New York) have also been added.
Last updated: 01/03/08