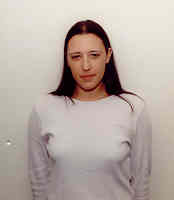 Megan E. Kahabka, a senior Environmental Science major from Clarence, NY, fulfilled her summer internship at the Brocton Waste Water Treatment Plant located in Brocton, NY. The Brocton treatment plant receives wastewater from the entire town of Brocton and the Lakeview correctional facility located within the town.
Megan worked under the guidance of Chief Operator Albert Feser on a re-circulation study. This study helped determine whether to re-circulate 60% of the plant's water in order to raise dissolved oxygen levels before releasing the water back into the environment. The study involved taking samples of the water every two hours, throughout the entire day, from different locations along the purification process line. The dissolved oxygen was measured in each sample and data was taken during no re- circulation and then compared to data taken during re-circulation.
In addition to the re-circulation study Megan also participated in the everyday activities of running a wastewater treatment plant. Every day she conducted "The Daily Tests", consisting of dissolved oxygen measurements, pH measurements, chlorine detection, and ammonia detection. Also, tasks like cleaning digester heads, weekly testing of effluent and influent, and operating the sludge press.
"My internship provided a great tie-in to my education here at St. Bonaventure. All the procedures that you read about and try to simulate in the laboratory were right there for me to get great hands on experience and see how they worked in real world situations."