Dr. K.R. Sundararajan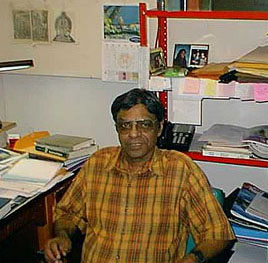 Office: Plassmann E6
Office hours: W 10:30am-1:00 pm
Tel.: (716) 375-2297
E-mail: sundar@sbu.edu
Joined St. Bonaventure Theology Department in 1976; currently Professor of Theology. Dr. Sundararajan received his B.A., M.A. and Ph.D. from the University of Madras. His areas of expertise are Hinduism, Theistic school of Visistadvaita, Vaishnavism, Comparative Studies (Hindu- Christian dialogue, Hindu- Franciscan dialogue), Mythology (Asian), Chinese religions (Confucianism, Taoism), Zen Buddhism.
Courses taught by Dr. K.R. Sundararajan
Clar 101. Intellectual Journey
Theo 107. Nature of Religious Experience
Theo 313. Indian and Asian Mythology
Website:
http://web.sbu.edu/theology/sundararajan
Major publications:
Books edited
Hinduism, Patiala: Punjabi University (1969)
Hindu Spirituality II Post-Classical and Modern. World Spirituality series 7. New York: Crossroads (1997)
Chapters in books:
"Hinduism", Religions of Man, Patiala, India, Punjabi University (1967)
"Christianity", Religions of Man, Patiala, India , Punjabi University, (1967)
"The Concept of Death in the Darsanas", Death and Eastern Thought (ed. Fredrick Holk), Nasville,Tenn. (1974)
"Contact with Practicalities", Towards World Community, World Council of Churches, Geneva, Switzerland (1975)
"The Ideal of the Perfect Life: The Ramayana", Hindu Spirituality:I Vedas through Vedanta, Krishna Sivaraman (Editor), World Spirituality Series, Volume 6. New York: Crossroad. 1989.
"Accepting Plurality", Limits of Religious Tolerance. Harry M.Buck (Ed). Chambersbug: Anima, 1989.
"Love of God in the Vaishnava Tradition, The Love of God in World Religions, Ed. K.L.Seshagiri Rao. New Delhi 1994.
"Experiencing the World: Lila and Satori," East-West Encounters in Philosophy and Religion, (edited, Ninian Smart and Srinivasa Murthy). Long Beach, CA. Long Beach Publications. (1996)
"The Spiritual Journey: A Comparative Study of Bonaventure and Ramanuja," Doors of Understanding: Conversations in Global Spirituality (edited, Stephen Chase). Quincy,Il. Franciscan Press (1997).
"Introduction," Hindu Spirituality II Post-Classical to Modern, (edited K.R. Sundararajan). New York: Crossroads. (1997)
"Vaishnava Bhakti", Commemorative Volume, Lensing, Mich: Bharatiya Temple (1999)
"Hinduism and Global Society" Toward a Global Civilization? The Contribution of Religions. Eds. P.M. Mische & Melissa Markling. NY: Peter Lang (2001)
Positions held in the past:
Visiting Scholar, Center for the Study of World Religions, Harvard Univeristy, 1970-73
Lecturer, Department of Religion, Boston University, 1972, spring semester
Lecturer in Hindu Studies, Punjabi University, Patiala, India, 1967-75
Senior Academic Advisor, Encyclopedia of Hinduism Project, University of South Carolina, Columbia
Associate Editor for Spirituality
---